Design, Hair, Art Direction by Sina Marie
I designed this collection of accessories and embroidered dresses for Queen Of Bizarre Clothing Company.
Feathers, studs, and jewels were used to create this eclectic style.
In this collection, I used vintage denim and retro clothing from a huge vintage warehouse.
We bleached, shredded and designed this wearable art collection for The North American Hair Awards.
The signs of the Zodiac were our inspiration.
Fringed fabric was hand sewn to faux fur and turned into an amazing poncho. Hot pink lining and a beautiful gold button were incorporated to add uniqueness of this design.
Many have tried to purchase this piece... but I'm keeping this one for myself.
Real time fitting picture of the "Poncho of Many Colours"
Bustle designed by Sina Marie
This huge bustle was created for a production I choreographed for a hair show.
To add an element of a surprise, the models were hidden underneath this huge bustle. The audience had no idea. This production was a game changer of its time.
The garment was sewn by my friend and designer Shakira Williford.
100% Ostrich Feather See-Thru moto
I am not a seamstress by any means but a visionary designer... YES!
I had dream to create a see- thru moto jacket with 100% ostrich fur. AND I DID IT.
For a Collection entitled "Super Hairo," this neckpiece is a modern twist on the vintage Super Hero concept.
I created a collection of neckwear called "Neckpons,"different fabrics and styles...and we sold out!
They were a hot commodity in my salon and the surrounding community.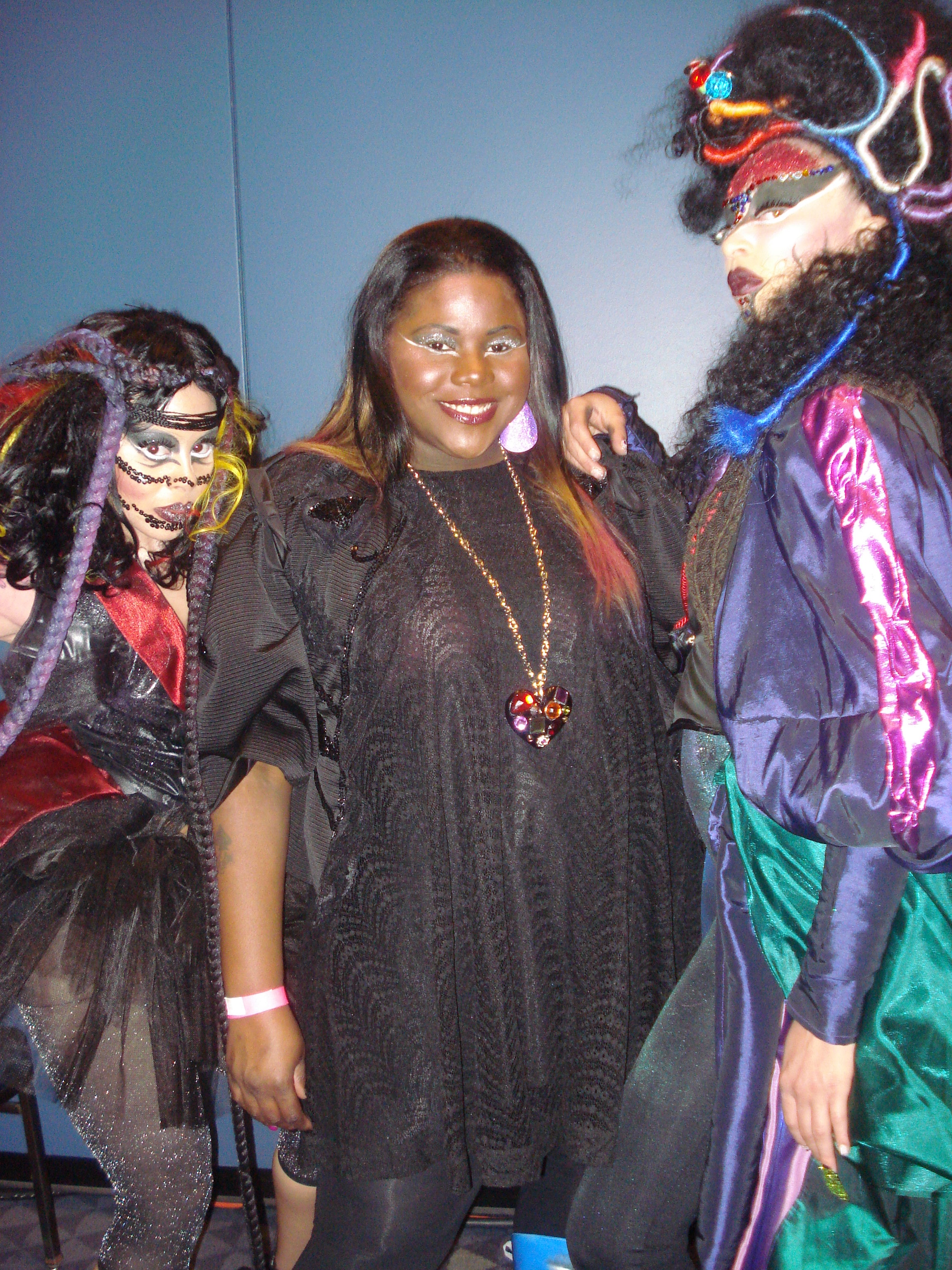 Costume and Wig design for a show I produced in Washington, DC for the Golden Hair Awards.
*all hairstyling and creative direction by Sina Marie
----for inquires contact directly----